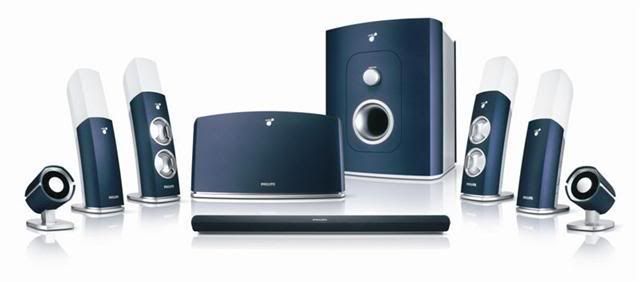 … and it's closer than you think. This afternoon, I got some brief but wonderful hands-on demo time with Philips upcoming amBX Gaming Peripherals and yes, they're all that and a carton of chips, folks. Since pretty much any developer can do great graphics these days, the next frontier is in improving the overall gaming experience so players are truly immersed in and outside of the game screen. Philips has been busy honing their amBX technology, which incorporates a software engine and scripting language available to game developers who then add visual, aural and tactile elements to their products. You've probably seen commercials for Philips' Ambilight TV's, so imagine this, but with the even more immersive addition of a sound system and lighting capable of 16 million colors. In other words, the games rock, literally.
For more on amBX, continue reading.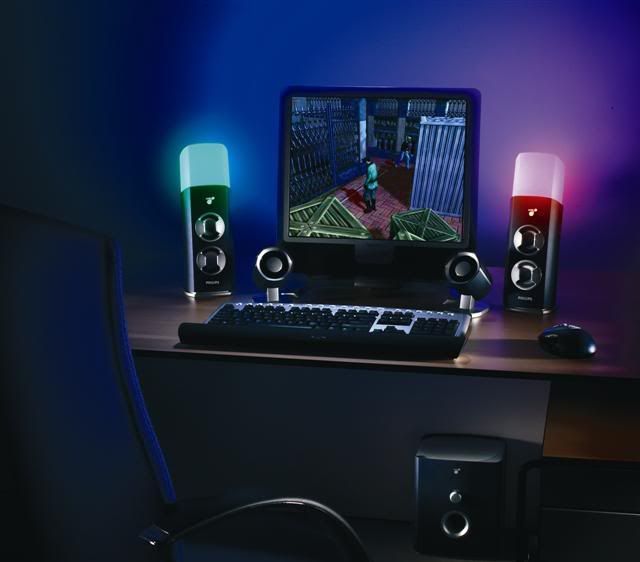 Far more than a simple subwoofer setup, the amBX setup uses lighting, a rumbling wrist rest and small fans (yes, FANS) to drop you fully into a number of upcoming titles like Broken Sword IV, The Angel of Death (a bit of which I got to play). The main unit consists of a 'Wall Washer' base that allows you to hook up the speakers, fans and controller unit. The Washer goes behind your monitor and has LED lights that 'wash' the walls behind it with lighting effects.
Two Satellite units sit next to the monitor, adding more lighting. This is the Starter Kit, which will retail for $199. Two other kits, Pro Gamer and Premium, add fans, lighted speakers, a subwoofer, the Wrist Rumbler and more lights for $299 and $399, respectively. You can also enhance the Starter or Pro Gamer Kits with a $99 Extension Kit that contains Desk Fans and a Wrist Rumbler. As far as cost goes, it's definitely affordable, particularly if you're looking to upgrade your gaming rig with a sound setup. Of course, there will be pack in titles with each setup – you'll get one with the Starter Kit, two with the Pro Gamer Kit and Three with the Premium Kit.
Back to the event, there was an awesome Dungeon Siege II trailer that was made even more stunning thanks to subtle to sweeping winds from the fans and that trembling wrist rest while ambient lighting flowed from the satellites, changing the mood as the clip played. Currently, THQ and Gas Powered Games have adopted this new technology for upcoming titles like the amazing-looking upcoming RTS Supreme Commander. The amBX setup can also be configured to use with older games, although you'll get the awesome lighting effects only. A playable Far Cry section really felt more intense with the added lighting and I can only imagine (and hope) that Valve looks into this for its future Half-Life Episodes. Even better, imagine a RPG or horror game where a blast of wind greets you as you open a door or conversely, you're trapped in a dark room and can use the feeling of cool air to make it to a door… I was sold as soon as the first breeze hit me during the trailer.
According to the reps, at least 25 developers are planning games using this new tech with more on the way. The unit can also be used as mood lighting for Windows Media Player files (sorry itunes users!), perfect for relaxing after work or heck, even as a party enhancer. Obviously, the practical applications of amBX are off the charts, particularly when you think about how it can be used in future PC and console games. Yes, Philips is working on getting next-gen games amBX'ed, so we'll definitely have to see how this turns out in the near future. In the meantime start saving those pennies – Philips expects to launch this product lineup in the US and Europe in early 2007. I'm looking forward to spending a bit more time with a preview unit, so color me excited at that prospect…